Platos destacados





order online now
Nuestras Deliciosas Pizzas
Bienvenido a Ciao Ciao
Nuestros chefs trabajan las 24 horas del día, los 7 días de la semana,
y están listos para recibir visitas, en cualquier momento del día y de la noche.
Nos gustaría aprovechar esta oportunidad para darle la bienvenida en nuestro Pizza House. Ofrecemos un ambiente cálido y acogedor para compartir una comida con familiares y amigos a cualquier hora del día o de la noche.
About Us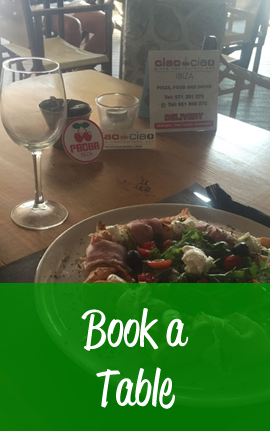 Delivery Informations
ZONE 1
Located max 10 km away from
Ciao Ciao Restaurant: € 3
ZONE 2
Located 10-15 km away from
Ciao Ciao Restaurant: € 19
ZONE 3
Located 15-20 km away from
Ciao Ciao Restaurant: € 29
ZONE 4
Located more than 20 km away from Ciao Ciao Restaurant: € 39
Monday – Sunday: 12 am – 01am
Our Story
Bienvenidos al Ciaociao , un sueño de 4 amigos que se hizo realidad. Unidos a vieja
amistad y al amor a la buena mesa. Nos hemos unido con la intención y el objetivo
de conocer verdaderos sabores de la típica y tradicional comida italiana. Por eso
hemos creído en proponer solo productos italianos que nos llegan semanalmente
frescos desde allí y que luego son elaborados con mucho cuidado cada día. Esperamos
que la calidad de nuestros productos junto a las capacidades de todo nuestro
equipo pueda satisfacer todos vuestros gustos por la comida italiana.
Buen provecho.
Our restaurant – pizzeria is located in the wonderful Ibiza in the touristic area of Playa Den Bossa, at only 150 meters away from the sea and the beach, few meters from the famous Bora Bora, the fantastic club Space and the most recent Ushuaia.
Carrer de les Begònies, 20/22, 07817 Platja d'en Bossa, Illes Balears, Spagna
This post is also available in: